Toyota Land Cruiser Club of Australia

4WD Enthusiasts since 1969
The Toyota Land Cruiser Club of Australia (TLCC), Sydney, is a conservative, family oriented four wheel drive social club.
Established by a small group of enthusiastic Toyota Land Cruiser owners in 1969, the TLCC is now the largest 4WD Club in the southern hemisphere. Although established by Toyota owners, the Club has always accepted other makes of 4WDs. Provided your vehicle has high and low range gearing and is capable of completing our 4WD training course, you and your vehicle will be welcome.
As a full member of the TLCC a wide range of activities, both social and driving, are available for your enjoyment and education.
Training
The TLCC runs a Basic 4WD training course which is included in your membership. The Club also offers a wide range of 4WD relevant camping and touring lifestyle courses all FREE with the exception of Apply First Aid. Members can undertake courses including Driver Training, as often as they like.
Club Properties
The TLCC owns two large country properties at Mittagong and Goulburn, both within three hours drive of Sydney, which are available FREE for members to use whenever they want, for as long as they want, with a few minor exceptions. Both properties have big sheds, free BBQs, lots of beautiful places to camp, hot and cold showers and flush loos.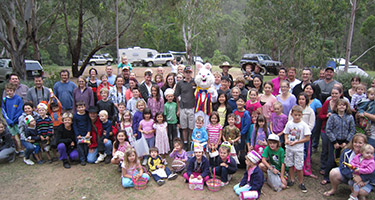 Social Events
A wide range of family social events are organised each year. Some are held on Club properties, others at Sydney venues. Social events include: Easter Bunny and egg hunt; June Long Weekend Fireworks night; October long weekend the Willowglen Not So Challenging (driving skills and fun events for members and kids); Halloween at the end of October; Childrens' Christmas Party with free gifts from Santa late November, and Adults' Christmas Party early December.
4WD Trips
4WD trips are undertaken to all parts of the State and all over the country. Trips range from 1 day or a weekend to 1, 2 or 3 weeks, and up to 3 or more months. Trips are graded for difficulty and are run in a responsible, friendly, helpful and supportive atmosphere. Many trips are suitable for camper trailers, and kids are always welcome. Best of all, the Club trips are FREE.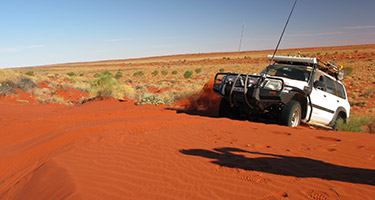 General Meetings
General meetings are held on the first Monday each month (except public holidays when the meeting is the second Monday of the month).
Click here to view the Calendar for the next 3 months.
General Meetings start at 8pm at the Liberty Hill Christian Centre, 2A Brunker Road, Chullora.
Committee Meetings
Committee meetings are held on the second Wednesday after the General Meeting each month - (except when the first Monday of the month is a public holiday & then it is the first Wednesday after the General Meeting). Click here to view the Calendar for the next 3 months.
All Members are welcome to attend to listen to or bring up Club matters with Committee.
Committee Meetings start at 7.30pm at the Arena Sports Club, 140 Rookwood Rd, Yagoona.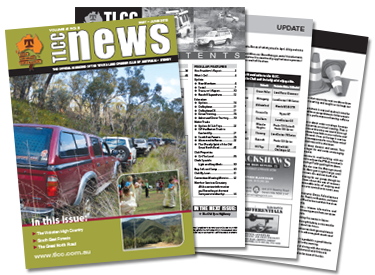 Club Magazine
A high quality, bi-monthly magazine is produced and members have access to the website Member Zone with private forums, articles and by-laws, document downloads, track permit information, members feedback and access to upload trip reports.
Technical, trip and other advice is always available. The Club also offers apparel and equipment shops with quality goods at discounted prices to Club members.
Basic 4WD Training
All new members must complete the Basic 4WD Training prior to becoming a full member. The Basic 4WD Course consists of three Driver Training Modules.
Module 1; Theory Training, is held at the Arena Sports Club Ltd, 140 Rookwood Rd, Yagoona.
Module 2 and 3; Practical Training, is held at Willowglen.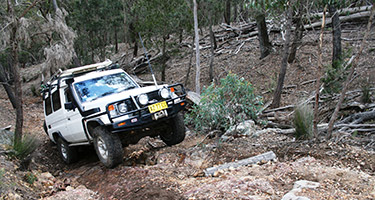 YouTube
Visit the Club's YouTube Channel for Trip Reports, Events, Willowglen Challenge and more. Click on the link
Join the TLCC
The Club is operated by members for members. To join the TLCC, you just need to become a Member to be eligible to receive all the Club Benefits.
If you would like to visit us for a night and see what we're all about, please feel welcome. The Club meets on the 1st Monday of every month at 8pm at the Liberty Hill Centre, 2A Brunker Road, Chullora. The Membership Secretary is available from 7pm on meeting nights for a chat, or to join the Club. Stay for the evening, enjoy supper after the meeting and meet our members.