Get the latest member news from the Toyota Landcruiser Club of Australia.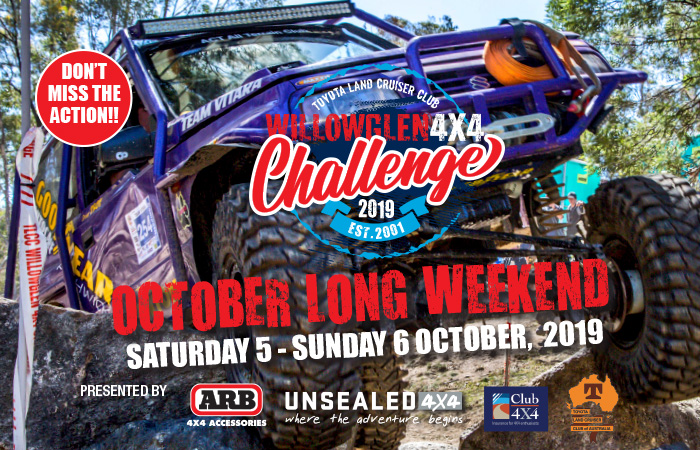 2019 TLCC Willowglen Challenge
When in doubt throttle out!
The TLCC [Toyota Land Cruiser Club] Willowglen 4x4 Challenge is an exciting event held annually over the 5th & 6th October 2019 long weekend, near Tarago NSW, and is regarded as the premier 4WD competition in NSW.
The Challenge, now in its eighteenth year, will see teams consisting of four vehicles from various registered 4WD clubs, competing over three days. With one stage being held on the Friday night, four stages on Saturday and finishing up with four stages on Sunday.
Watch as the drivers get Tyred 'n Twisted in a 'U' shaped course involving large excavator tyres and angled logs. The judges will ensure they are Step'n up in a series of log steps ascending up a hill. As they climb, the logs will get bigger, and most drivers will be Up the Creek at one stage in a steep ascent followed by a steep descent, through a natural ravine climbing over rocks, logs, tyres and dugouts.
Each stage is designed to suit both competitors and spectators alike to ensure maximum enjoyment, speedy recovery of vehicles and continuous running of events. All stages are a test of both the driver and the navigators' skills along with the vehicle's capability.
Willowglen is located near Tarago, 40 minutes south of Goulburn. On the weekend of the event, there will be direction signs posted along the road from Tarago to the competition. Importantly, you do not need a four wheel drive to get there. The property and car parks can be accessed by two wheel drive vehicles.
Ticket Link: https://www.moshtix.com.au/v2/event/willowglen-4x4-challenge-2019-nsw/114453
Facebook Link: https://www.facebook.com/events/386564685303015/
Contact Details:
Please contact Toyota Land Cruiser Club of Australia Promotions Officer Andrew Boyd on 0408 736 472.