Club Contacts

How can we Help you?
Club Postal Address ~
The Secretary
Toyota Land Cruiser Club of Australia
PO Box 2, Bankstown, NSW 1885
ABN ~ 49 003 174 785
For General Enquiries Phone ~
Andrew Boyd 0408 736 472
Rob Alexander 0418 960 511
Carl La Riviere 0413 558 184
---
Club Member Contacts
General Information and Contact Requests ~ Andrew Boyd info@tlcc.com.au
The Willowglen Challenge Committee challenge@tlcc.com.au
President ~ Darren Pavey president@tlcc.com.au
Vice President ~ David Rowley vicepresident@tlcc.com.au
Secretary ~ Allan Kidd secretary@tlcc.com.au
Treasurer ~ Mark Willock treasurer@tlcc.com.au
Membership Secretary ~ Craig Bellamy membership@tlcc.com.au
Education Co-ordinator ~ Bob Fyfe education@tlcc.com.au
Land Manager ~ land@tlcc.com.au
4WD Activities Co-ordinator ~ Stuart Robertson 4wdtrips@tlcc.com.au
Social ~ social@tlcc.com.au
Promotions Officer ~ Andrew Boyd promotions@tlcc.com.au
Driver Training ~ Bob Fyfe training@tlcc.com.au
Recovery Team Leader ~ Ian Fergusson recovery@tlcc.com.au
Advertising ~ Andrew Boyd advertising@tlcc.com.au
Welfare Officer ~ welfare@tlcc.com.au
Welfare Officer ~ welfare@tlcc.com.au
4wd Gear Shop ~ Mark Grace 4wdgearshop@tlcc.com.au
Clothing Shop ~ Elke and Gary Cooper clothing@tlcc.com.au
Magazine Editor ~ Chris Taylor news@tlcc.com.au
Forum Administration ~ Aidan Cashman tlccforumadmin@tlcc.com.au
Sergeant-at-Arms ~ Sally Rippingale sergeant@tlcc.com.au
Webmaster ~ John Ferguson webmaster@tlcc.com.au
Willowglen Challenge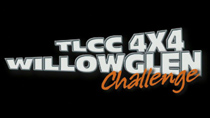 In 2012 competitors from 20 clubs from all over NSW and the ACT competed for the coveted
Willowglen Challenge trophy.
---
TLCC News
---
Willowglen Challenge
On behalf of the ACT All Terrain Club, I'd like to say thanks for continuing to putting on another great Willowglen Challenge weekend. Willowglen is one of the standout 4WD events that will, hopefully, be around for many years to come. I would also like to say thanks to the Challenge Committee, Stage Marshalls, Officials, Recovery Crews and all those involved. The amount of time and effort that goes into running such an event in not lost on the competitors, and we all really appreciate it. If it wasn't for that time and effort, there wouldn't be a Willowglen. We are already looking forward to next year
Club Member,
ACT All Terrain Club
Thanks to the TLCC for hosting the Willowglen challenge. Tracks were great. Cheers on behalf of the Canobloas club.
Club Member,
Canobolas 4WD Club
On behalf of the On all 4's 4wd club I would like to thank TLCC for another great weekend, we all had a blast. Yet again it was another very well run event
Event Participant,
On All Fours 4WD Club
Just wanted to say well done to the TLCC organising committee, the volunteers, marshals & yourself who have all excelled once again in what we have found to be one of the best run competitions of professional standards in NSW. From both a competitor & spectator point of view, the Macarthur Club members appreciate all the time & effort that goes into the preparation & running an event of this calibre, by your tremendous hard working body of volunteers. We loved every aspect of it all & we look forward to next year already. Please pass on our huge thanks to the Willowglen team on our behalf.

Cheers

Karen Gray
Team Manager
Event Participant,
Macarthur District 4wd Club
To our fellow Competitors – thanks for another great weekend. To be with a group of likeminded people, many of whom have become good friends, enjoying a sport we all love – what better way to spend a few days!! And to see competing teams supporting each other, cheering each other on, offering help when needed and sharing a few laughs at the end of the day is pretty cool. Belinda
Event Participant,
Shellharbour 4x4 Club
Big thanks to the TLCC for another great and well run event.
Event Participant,

Big Thanks to the TLCC and other clubs/competitors for another top weekend.
Event Participant,

See All Reviews
---