Willowglen 4WD Property

Willowglen; near Tarago south of Goulburn, was acquired in 1999 to be used for driver training, our Funkhana, the Willowglen 4x4 Challenge and other 4WD activities. Tracks suited to all grades of four wheel driver from the inexperienced to the most ardent competitors have been created here by our Driver Training Team and many dedicated members.
After much work by many Club members, this 120 hectare (300 acre) property soon gained a large enclosed shed with central fire place. Later a shower and toilet block, built by two of our volunteer member builders and again assisted by many other Club members has made Willowglen an even more suitable venue for all of our training, off road driving and social events.
All this is particularly appreciated by our driver trainers and new trainee drivers alike after a weekend 4WD training course. Several additional camp-grounds are also available to cater for the different needs of both competitors and spectators at the TLCC Willowglen Challenge.
A Funkhana and Bush Dance night are now staged every year and members have found Willowglen to be a great property for 4WD activities and social events as well, complementing Koolandilly in this latter regard.
Along the Willowglen Road, Tarago
Electricity is connected and with water supply from numerous large water tanks we can offer members kitchen and BBQ facilities, hot showers, flushing toilets (including facilities for the disabled) and ample pleasant camping areas with firewood in abundance.
Local attractions around Willowglen include the Historic townships of Braidwood, Tarago, Goulburn, Bungendore & Bungonia, scenic drives, short walks, art studios, Bungonia Gorge, Lake George, Oallen Ford & the Shoalhaven River just to name a few.
Willowglen Photo Gallery
Willowglen Challenge 2013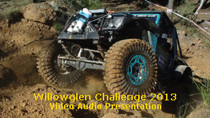 Willowglen Challenge 2013 Club Photos
---
TLCC News
---
Willowglen Challenge
On behalf of the ACT All Terrain Club, I'd like to say thanks for continuing to putting on another great Willowglen Challenge weekend. Willowglen is one of the standout 4WD events that will, hopefully, be around for many years to come. I would also like to say thanks to the Challenge Committee, Stage Marshalls, Officials, Recovery Crews and all those involved. The amount of time and effort that goes into running such an event in not lost on the competitors, and we all really appreciate it. If it wasn't for that time and effort, there wouldn't be a Willowglen. We are already looking forward to next year
Club Member,
ACT All Terrain Club
Thanks to the TLCC for hosting the Willowglen challenge. Tracks were great. Cheers on behalf of the Canobloas club.
Club Member,
Canobolas 4WD Club
On behalf of the On all 4's 4wd club I would like to thank TLCC for another great weekend, we all had a blast. Yet again it was another very well run event
Event Participant,
On All Fours 4WD Club
Just wanted to say well done to the TLCC organising committee, the volunteers, marshals & yourself who have all excelled once again in what we have found to be one of the best run competitions of professional standards in NSW. From both a competitor & spectator point of view, the Macarthur Club members appreciate all the time & effort that goes into the preparation & running an event of this calibre, by your tremendous hard working body of volunteers. We loved every aspect of it all & we look forward to next year already. Please pass on our huge thanks to the Willowglen team on our behalf.

Cheers

Karen Gray
Team Manager
Event Participant,
Macarthur District 4wd Club
To our fellow Competitors – thanks for another great weekend. To be with a group of likeminded people, many of whom have become good friends, enjoying a sport we all love – what better way to spend a few days!! And to see competing teams supporting each other, cheering each other on, offering help when needed and sharing a few laughs at the end of the day is pretty cool. Belinda
Event Participant,
Shellharbour 4x4 Club
Big thanks to the TLCC for another great and well run event.
Event Participant,

Big Thanks to the TLCC and other clubs/competitors for another top weekend.
Event Participant,

See All Reviews
---